1 - DAY TOUR IN PONDICHERRY
Tourist Places In Pondicherry :

Auroville - Aurobindo Ashram - Manakkula Vinayakar Temple - Pondicherry Museum - Bharati Park - Botanical Gardens - Chunnambar Boating - Auroville Beach - Pondicherry Promenade Beach - Paradise Beach - Nehru Street
AUROVILLE PONDICHERRY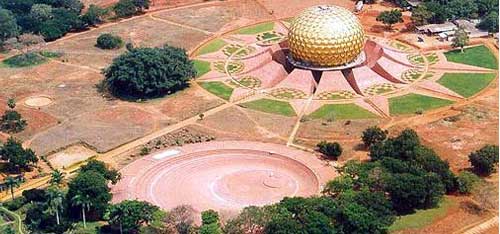 Auroville opening and closing time
Timings: Monday to Saturday: 9:30am - 12:30pm and 2:00pm - 4:30pm, Sunday: 9:30am - 12:30pm
Location: Bommayapalayam, Auroville
Auroville was conceived as a place of research into the ideal of human unity by theMother, the spiritual collaborator of Sri Aurobindo. The idea is to build a futuristic city where people of goodwillcan live together in peace and progressive harmony, above all creeds, all politics and all nationalities. Aurovillecame into existence in 1968.
Its Charter says, "To live in Auroville one must be a willing servitor of the DivineConsciousness", and describes it as "belonging to nobody in particular, but to humanity as a whole, as a place ofconstant progress and as a bridge between the past and the future."Located around 8 kms north-west ofPuducherry, Auroville was designed by the French architect Roger Anger. Around 2,000 people live there insettlements with names like Grace, Fraternity, Certitude and Transformation.
Nearly two-thirds of the residents are non-Indians.Architecturally speaking, the buildings are a combination of modern western and traditionalIndian elements, set in a rural landscape of deep red earth and widespread forestation, with narrow earth roadslinking the settlements. The residents are involved in agriculture, administration, commerce and handicrafts,alternative technology, education, healthcare and development projects, the latter including Aurore Systems, aninternational award winning unit involved in solar photovoltaic and thermal systems.
The central Matrimandir, which is not a temple but a place for individual silent concentration, is set in an area of 62 acres at the centre ofthe emerging township, and is seen as "a symbol of the Divine's answer to man's aspiration for perfection and asan Union with the Divine manifesting in a progressive human unity."During the inauguration ceremony of Aurovilleon 28th February 1968, soil from 124 countries was placed in a lotus-shaped urn and mixed to symbolizeuniversal oneness. This urn is today sited at the centre of an Amphitheatre in the Matrimandir Gardens.
The Matrimandir's 12-sided white marble Inner Chamber has a 70cms diameter optical-quality glass globe at itscentre, onto which a shaft of sunlight is focused by way of a roof-mounted heliostat. The light falling on the globeacts as a focal aid to concentration. Introductory videos on the township and the Matrimandir can beseen at the Centre by request.
SRI AUROBINDO ASHRAM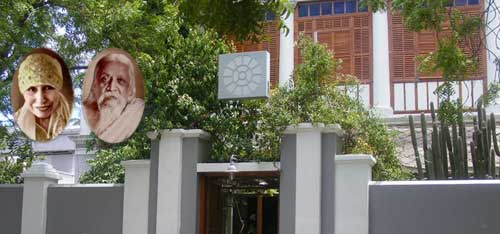 Sri Aurobindo Ashram opening and closing time
Opening Time : 8:00, Closing Time : 18:00
Location: Marine St, White Town
Sri Aurobindo Ashram is one of the most well known and wealthiest ashrams inIndia, with devotees from India and all over the world flocking towards it for spiritual salvation. Its spiritual tenetsrepresent a synthesis of yoga and modern science. It is open to the public daily between 0800-1200hrs and1400-1800hrs. Children below 3 years of age are not allowed into the Ashram and photography is allowed onlywith permission of the Ashram authorities.
The Ashram was set up in 1926 by aurobindo ghosh, one of India's greatest philosopher-poets, who originally came to Pondy to escape persecution by the British. Itwas after arriving in Puducherry, that he immersed into the spiritual realm and discovered the power of yoga. Hisphilosophy was deeply rooted in yoga and his writings inspired a number of followers.One of them was a Parisianmystic, painter and musician called mirra alfassa, who was so inspired by his philosophy that she stayed on inPuducherry and was instrumental in establishment of the Ashram. After aurobindo's death in 1950, the running ofthe ashram was entrusted to his chief disciple and companion, mirra alfassa.
The idea of auroville or the 'City of Dawn' was conceived by The Mother. She died in 1973 at the age of 93.The Ashram'sinfluence can be felt in most of Puducherry. The main Ashram building is where the mortal remains of Aurobindoand the Mother are kept. Their 'Samadhi' or mausoleum, which is generally surrounded by supplicating devotees,is in the central courtyard under a frangipani tree and is covered daily with flowers.
Some of the Ashram's facilities like the Library and the main building (during collective meditation) can be accessed, only after obtaining a gatepass from the Bureau Central or some of the ashram guest houses.
MANAKULA VINAYAKAR TEMPLE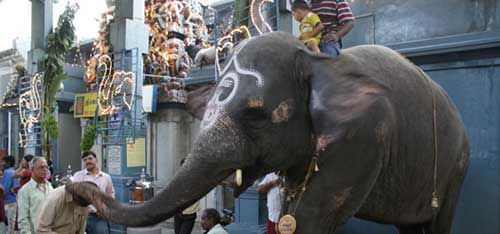 Manakula Vinayagar Temple opening and closing time
Timings: 5:45am - 12:30pm and 4:00pm - 9:00pm (10:00pm on Fridays)
Timings are subject to change during holidays and festival days.
Location: Francois Martin St, White Town
Manakula Vinayagar Temple places of worship - it is situated just behind Raj Nivas and shares a close distance with Arabindo Ashram.The ancient temple was constructed three centuries ago and still stands in all its magnificent glory.In Tamil "Manal" means sand and"Kulam" means pond near the sea, earlier which was full of sand around pond.
So the people called the god as Manal Kulathu Vinayagar which translates as 'God near the pond of sand'.The temple is dedicated to the worshipof LORD GANESHA. The monumental interiors of the temple are decorated with forty incarnations and forms of LORD GANESHA,carved on the stone walls of the temple. The golden spire forms the superstructure of the temple and isthe steeple that crowns the place of worship.
Within the premises of the temple lies the shrine devoted to LORD MURUGAN. The architecture in which the temple structure is stylized is typical of the Deccan era and bearssimilarity with temples of other states of South India. Manakula Vinayagar Temple was in existence before theFrench came and settled in Pondicherry before 1666.
During the tenure of Dupleix, there were attempts to destroy the temple but the temple was finally spared owing to strong protests from the Hindu population and thethreat of British and Maratha invasion of the territory. Devotees and pilgrims gather in large numbers in the templeeveryday to offer their prayers to the reigning deity and to seek blessings of LORD GANESHA.
The pilgrims are entertained by the temple elephant Lakshmi who gathers coins from the tourists and showers blessings throughher trunk.The stone carvings and the golden shrine create a blissful aura around the temple making it a trueabode of the temple deity, LORD GANESHA. Festivals: Brahmothsavam The Mega festival of LORD ManakulaVinayagar is celebrated every year for 24 days during the month of august and september.
Apart from this, an elephant can also be found here.
PONDICHERRY MUSEUM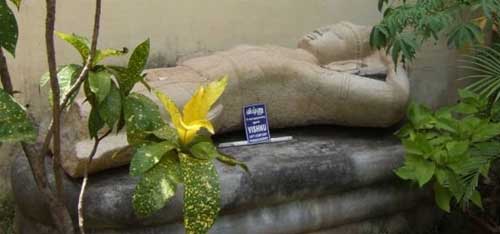 Puducherry museum opening and closing time
Opening Time : 10:00, Closing Time : 17:00
Location: Saint Louis Street(Opposite to Raj Nivas)
The Puducherry Museum has an excellent gallery with sculptures and has the remains of archaeological findings from the Arikamedu Roman settlement. One can go through the history and legendary French colonial details in the section of the museum.
This Museum is located on Saint Louis Street and is open on all days except Mondays and nationalholidays between 10:00-17:00 hrs. The museum is located in the former Law Building. The museum has acollection of rare bronzes and stone sculptures from the Pallava and Chola dynasties and artefacts excavatedfrom Arikamedu (an ancient port just 7 kms.
from city that had trade links with the Roman empires). The Foyerand Courtyard have various stone statues and a fossilized tree trunk. On the ground floor, the major attraction isthe central space with 3 curious transport mechanisms - a coach, a palanquin (sedan chair) and a pousse-pousse(an earlier version of the rickshaw) which required two attendants, one to steer and one to push. The bronzegallery displays the images of gods and goddesses together with a wide collection of temple lamps used acrossdifferent dynasties down the centuries.
Pre-Christian relics which you will find here, such as remnants of Greekand Roman jars, pieces from the Tsung Periods in China and beads made from glass and precious stones weredug out from the Arikamedu site, just south of Puducherry. The museum also has a Geology room, a shell andfossil room and a collection of handicrafts, coins, church relics and French furniture.
(Closed on Mondays &National Holidays) For further information:Department of Art and Culture1, Romain Rolland Street, Puducherry
BHARATI PARK PONDICHERRY
Bharati Park Puducherry and closing time
Opening Time : 06:00, Closing Time : 21:00
Location: Ranga Pillai St Puducherry
Bharati Park is in the green centre of the French Town and its lush trees provide amplerelief from the scorching sun on a hot summer day.
With children playing in the ponds, on the hill or in the trafficpark, grown-ups sitting or lying on granite benches, families on a picnic and occasional sit-ins of striking citizens,the park is the most appreciated public area in the town. Strolling under the cool trees is as dynamic as it getsunless people rush to the spot when an occasional movie is being shot.
The Aayi Mandapam has become theunmistakable centre from which four lanes divide the Park in almost equal parts. The area is dotted with ancientsculptures and not so ancient statues.
Around it stand a number of stately buildings: Raj Nivas, Museum, houses an interesting collection of excavated artefacts fromthe Roman Times and heritage from the French Period. Towards the east, hidden behind a thick wall and hugetrees lies the former French bandstand on which the French Army Band used to play.
BOTANICAL GARDENS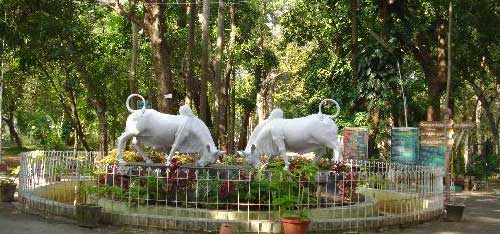 Botanical Gardens opening and closing time
Opening Time : 9:00, Closing Time : 17:00
Location: South Boulevard Puducherry
Botanical Gardens add great educational and recreational value to Puducherry. The gate leading to thegarden is reminiscent of French architecture and it stands out from its immediate surroundings because it issmack in the middle of the old Tamil town.
The Botanical Gardens were laid out in 1826 in ornate French style,with pruned trees, beautiful flower beds and gravel lined paths and fountains. The French introduced many exoticplants from all over the world, many of which thrived.
The sprawling 22 acres garden houses more than 1500species of plants with placards indicating the species, common name and interesting information like the uses ofthe tree, amount of oxygen generated and its medicinal value; this could well qualify as one of the best botanicalgardens in South India.
A mix of endangered and exotic species of plants is spread out all over the place. Thereare 28 plots dividing the Botanical Garden and each has a separate theme.The garden was started by the Frenchcolonists on an experimental basis to analyze the crops that could be cultivated in the region. Later trees wereplanted here and Perrottet was instrumental in transforming the place into a botanical garden in 1831. Hismemorial can be seen inside the premises.
In 1960, after the Transfer of Power from the French, the gardenbecame the hub of horticultural development in Pondicherry.The gardens also offers Toy train rides, six fountainsone of which is a musical and dancing fountain - active on weekends, with two shows in the evening. It alsoboasts of a Japanese rock structure and an aquarium.
The timings and the frequency of the shows may varydepending on the season.Location:South Boulevard (near old Bus Stand), Puducherry 605001Timings:10:00am -5:00pmCharges:Train rides are chargeable and require a minimum head count to start.Visiting the Aquarium isalso chargeable.Adults: Rs. 10/- and Children: Rs. 5/-
CHUNNAMBAR BACKWATER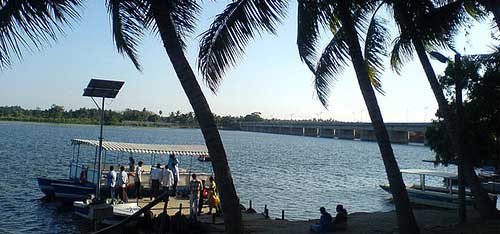 Chunnambar Nonankuppam opening and closing time
Opening Time : 9:00, Closing Time : 17:00
Location: Nonankuppam Puducherry
Chunnambar is situated 8 kms from Puducherry, along the Cuddalore Main Road. This tropical paradise isflanked by a quiet-flowing creek on one side. You can sail downstream to the sands and pitch up a cosy seasidetent for yourself.
Overnighting within the tree-houses on the backwater provides a relishing experience of thegreat outdoors.The beach at Chunnambar also known as Plage Paradiso or 'Paradise Beach' is located near themouth of the backwater. The sand is pristine and the water is clean. It's an ideal place for sun bathing and beachsports. A short, pleasant cruise into the sea from here could reward you with the memorable sight of playfuldolphins in natural habitat, horsing around.Chunnambar Beach and Backwater Resort, a PTDC enterprise, hasboating, backwater boat tours, trekking and picnics on Paradise Beach for visitors and their friends and families.
The resort offers various kinds of rental boats (speed, motor, sail, rowed, paddled and pedalled) in addition tobeach volleyball and other beach sports.Seagulls the multi-cuisine restaurant cum bar is a stone's throw from thebackwater. It specialises in Chinese and Tandoori food. The restaurant too has a view of the backwaters.
It is anideal setting for a theme party or an offbeat get-together. It also serves food in the huts just outside therestaurant. You can also order a picnic lunch to the beach and you will be served there in style. Hereaccommodation is available on the three tree top houses that offer you the bliss of eco-tourism.
You can read anovel, paint, listen to music, meditate or even stay overnight, all on the top of a tree!'Sunrise Panorama' (a twostorey tree top house) gives you an unrestricted view of the backwater up to its mouth. 'Palm house' on the otherhand overlooks the artificial pond and the park.
'Nest bird' is the perfect abode for the adventure loving folks; ithas a rope ladder that leads to a small balcony. All in a tree house Location pondicherry to cuddalore Road,Nonankuppam, Puducherry.
PARADISE BEACH
Paradise Beach opening and closing time
Opening Time : 09:00 , Closing Time : 17:00
Location: Pudukuppam Puducherry
Paradise Beach is private beach is meticulously taken care of and offersa host of benefits - from food and beverages to showers and restrooms, all just a few meters away. Swimming ispermitted close to the shore only, as currents can be strong further in.
Bring a change of clothes if you plan totake a dip.The restaurant shack offers a variety of cuisines and beverages with your meal. The aromas from thekitchen, the rustic ambience, the rustle of coconut trees, the swishing of the waves and the feel of sand betweenyour toes is sure to be etched in your memory for years to come.If you are with friends and family you could alsoput in a game of beach volleyball. Just ask the friendly staff for the ball.
You may even get a few passers-bywanting to join the game. If not, take up beach chairs and relax with a book or iPad, or just stare into the vastexpanse before your eyes.Whether it is a couple of hours or the entire day Paradise Beach is a must do duringyour trip to Pondy. Located just 8kms.
from the town, along the Cuddalore Main Road this beach can beaccessed only from the Chunnambar Resort via boats.Location of Chunnambar ResortPondy-Cuddalore Road,Nonankuppam, Puducherry 605101 Timings: 9:00am - 5:00pm dailyCharges: Entry, Boat Rides, Camera, Food andBeverages are all chargeable
PONDICHERRY BEACH (PROMENADE)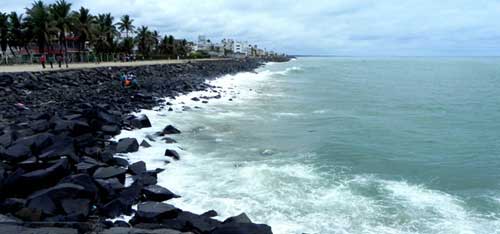 Promenade Beach opening and closing time
Opening Time : , Closing Time :
Location: Beach Road, Puducherry
Promenade Beach 1.5 km long promenade running along the beach is the pride of Puducherry. One can relax or take a stroll atany time of the day, though the best time would be early in the mornings and late evenings when the road isclosed to vehicular traffic.
This ensures that kids can run amok and people can enjoy the ambience withoutpollution and fear of speeding vehicles.Residents and tourists alike use the promenade for walking, jogging,skating and yoga as well.
Early in the morning health juice vendors abound and in the evening this effect isreversed with delectable junk food - chaat, popcorn, cut fruits with chilly and salt to tickle your taste buds. Thecrown jewel of the Promenade is definitely Le Cafe.
AUROVILLE BEACH
Auroville Beach opening and closing time
Opening Time : , Closing Time : 18:30
Location: East Coast Road Auroville, Puducherry
Auroville Beach - popularly referred to as Auro beach - as the name suggests is close to Auroville. It is situated atthe right side of the ECR, opposite to the road leading to Auroville. Located about 12 kms from the mainPuducherry town, its shallow waters and small waves make it an ideal place for swimming.
It is a fairly populardestination and on weekends it can get rather crowded, whereas on weekdays it is relatively less so.Whether it isswimming in the sea, playing on the shore or just taking a lazy stroll; indulge in your desire on clean sands andcool waters.
The beach is also used by surfers - both beginners and professionals - to hone their skills. You canspot them early in the mornings.The long stretch of beach has many points of entry and exit. Hotels, GuestHouses and shacks are present along the shore.
Locationoff ECR, (opp Auroville entrance), PeriyamudaliarChavadi, Tamil Nadu.
OTHER TOURIST AND VISITING PLACES IN PONDICHERRY:
BHARATHIDASAN MUSEUM opening and closing time
Opening Time : 10:00, Closing Time : 17:00
Location: 95, Perumal koil street, Puducherry
ANANDA RANGAPILLAI MUSEUM opening and closing time
Opening Time : 10:00, Closing Time : 17:00
Location: Ananda Rangapillai Street, Puducherry
ANANDA RANGAPILLAI HOUSE opening and closing time
Opening Time : 10:00, Closing Time : 18:00
Location: 109, Ananda Rangapillai Street, Puducherry
ALLIANCE FRANCAISE opening and closing time
Opening Time : 08:30, Closing Time : 18:15
Location: Rue de Suffren, White Town Puducherry
FRENCH CONSULATE opening and closing time
Opening Time : 08:00, Closing Time : 12:00
Location: 2, Rue De La Marine, Puducherry
LYCEE FRANCAIS opening and closing time
Opening Time : 08:00, Closing Time : 17:00
Location: 12, Victor Simonel St, White Town, Puducherry
ROMAIN ROLLAND LIBRARY opening and closing time
Opening Time : 09:00, Closing Time : 19:00
Location: Rangapillai St, Puducherry
AAYI MANDAPAM opening and closing time
Opening Time : 06:00, Closing Time : 21:00
Location: Campagnie Street, Puducherry
FOYER DU SOLDAT Puducherry
Location: 16, rue Law de Lauriston, Puducherry
DUPLEIX STATUE Puducherry
Location: Beach Road, Goubert Avenue, Puducherry
FRENCH WAR MEMORIAL Puducherry
Location: Beach Road, Goubert Avenue, Puducherry
GANDHI MANDAPPAM Puducherry
Location: Beach Road, Goubert Avenue, Puducherry
OLD LIGHT HOUSE Puducherry
Location: Beach Road, Goubert Avenue, Puducherry
KARGIL WAR MEMORIAL Puducherry
Location: Beach Road, Goubert Avenue, Puducherry
AMBEDKAR MANI MANDAPAM Puducherry
Location: Beach Road, Goubert Avenue, Puducherry
1 - DAY TOUR IN PONDICHERRY
Tourist Places In Pondicherry :

Manakula Vinayakar Temple, Panchavadi Anjaneyar Temple, Auroville, Aurobindo Ashram, Chunnambar Boating, Ousteri Lake Boat Rides, Auroville Beach, Promenade Beach, Paradise Beach, Serenity Beach, Pondicherry Museum, Bharati Park, Botanical Gardens, Monument and Memorial, French Colony and Memorial, Churches in Pondicherry, Mosques in Pondicherry, Temples in Pondicherry visit.